THE BEGINNING OF B&P SPEED SHOP
B&P Speed Shop opened in 1973.  Then the B and the P represented the first letters of the last names Jay and his partner in the business (now, perhaps is stands for Beards and Performance).  Jay Peters, Inc. formed an S-Corp 1/1/2002.
Jay Peters started drag racing cars in high school, and competitively right out of high school.  After breaking a few things here and there; engines, transmissions, etc., Jay saw the need to put together his winning combinations himself.  Wrenching on his race car and a few others, B&P Speed Shop was open for business.  The first piece of machining equipment he can remember buying is a valve seat machine.
SO WHO ARE THOSE BEARDED GUYS?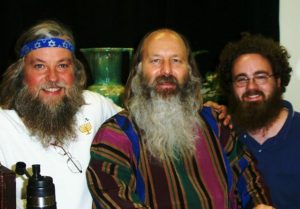 ca.2005   
ca.2017
Jay Peters:   A racer from way back, Jay, is the Owner of B&P Speed Shop.  He has a lot of history drag racing cars, and building engines for everything from race cars and street machines to aunt Mildred's Buick.
He can be found these days around the shop machining and assembling engines, wrenching on cars, selling used cars and parts… and often answering your phone calls!
Karl "Smitty" Smith:  Smitty has been hanging around the shop on and off since some time in 1996.  He worked in prototype development at Ford Motor Company for a few years, has a Class 'A' CDL, is Double Master ASE Certified, and a Michigan State Licensed Mechanic, and now runs the Jefferson Schools Bus Garage.
Michael Rood:   The gentleman on the right in this picture is our friend  Michael Rood of "A Rood Awakening from Israel."  You can learn more about him and his ministry here: www.aroodawakening.tv
We look forward to seeing you, and if you spend any time with us at B&P Speed Shop, you'll learn why we like to call ourselves "Automotive Evangelists."  SHALOM!
B&P Speed Shop is Operated by Jay Peters Inc.